Different Editions of Defqon 1
Defqon 1
Le Defqon 1 (Defqon-1 ou Defqon.1 - Festival 1) est un festival Hardstyle et Hardcore organisé chaque année, depuis 2003, par Q-Dance aux Pays-Bas.
Cet évènement auparavant se déroulait à Almere. Désormais il se tient à Biddinghuizen et se déroule sur plusieurs jours dans le park Walibi World. Les festivaliers ont la possibilité de camper sur place. Pour la première fois a lieu une Pre-Party et une After-Party mettant en scène les DJ Hardstyle les plus connus. Parmi eux on retrouve  Zany, Deepack, The Prophet, Showtek, Darkraver, Zatox, Dj Isaac, D-Block & S-te-Fan, Dj Promo, Headhunterz, Noisecontrollers, Pysko Punkz, et bien d'autres.
De nombreux effets de lumière sont utilisés au cours de ce festival. La particularité du festival consiste à placer les DJ's simultanément à différents endroits, répartis par type de musique, identifiée par une couleur.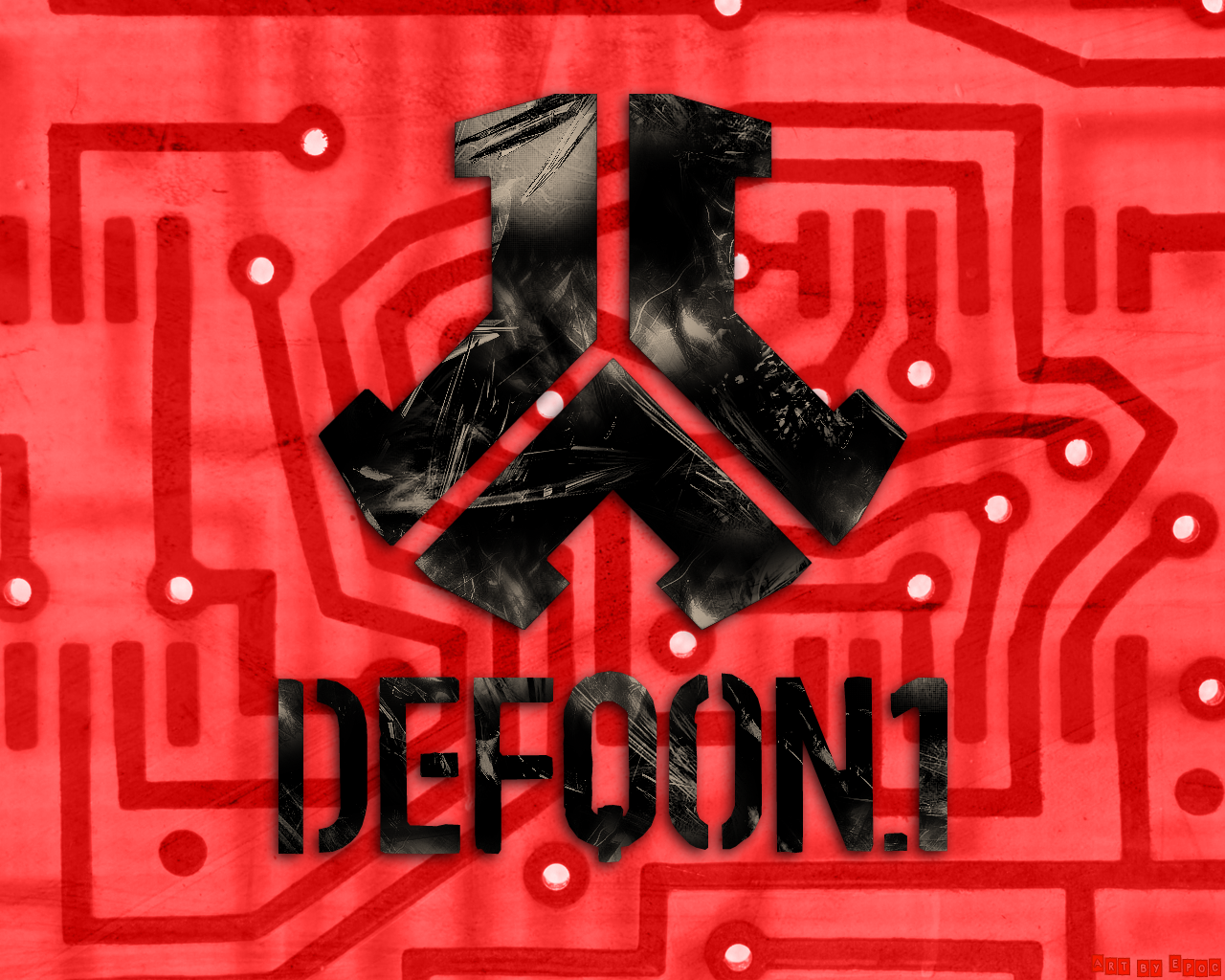 Le Defqon-Festival se distingue aussi par son extra : en 2006, un homme a été catapulté à plus de 100 mètres de hauteur. En 2007, un homme est apparu avec un jetpack. Et en 2008, des professionnels faisaient du scooter des mers, volaient avec un para-moteur, et on pouvait également faire un saut a l'élastique.
Anthems
14 Juin 2003 : Builder - Skyscraper (DJ Luca Antolini Hard Mix)
19 Juin 2004 & 18 Juin 2005  : The Prophet - Emergency Call
17 juin 2006 : Showtek - The Colours Of The Harder Stylers
16 juin 2007 : Brennan Heart & JDX - Get Wasted
14 juin 2008 : Luna & Deepack - Biological Insanity
13 juin 2009 : Headhunterz - Scrap Attack
12 juin 2010 : Wildstylez - No Time To Waste
25 Juin 2011 : Noisecontrollers - On The Move (Unite)
Defqon1 2017
Friday 23 : 01 - Blue Bass Modulators Coone Belgium Noisecontrollers Wildstylez ZazaFront MC: Villain 02 - Black Charly Lownoise & Mental Theo Evil Activities Korsakoff Mad Dog Partyraiser MC: Ruffian Saturday 24 01 - Red Adrenalize Atmozfears Audiotricz Brennan Heart Cyber Da Tweekaz Frequencerz Psyko Punkz Sound Rush TNT Zatox Live: NCBM MC: Tellem MC: Villain 02 - Blue Act of Rage Adaro Bass Chaserz D-Sturb Deetox Jason Payne Phuture Noize Public Enemies Radical Redemption Ran-D Tartaros Warface Live: Rebelion Scotland Live: Sub Sonik MC: DV8 03 - UV Andy...
Defqon 1 2016 - Dragonblood
Line UP Friday 24th June The Gathering - Hardstyle At Blue BASS MODULATORS FRONTLINER & MAX ENFORCER DA TWEEKAZ NCBM RAN-D ALLSTVRS CRYPSIS [LIVE] HOSTED BY VILLAIN The Gathering - Hardcore At Blue ANGERFIST & PARTYRAISER TEAM WESTSIDE (THE DARKRAVER, THE VIPER, LUNA & NOSFERATU) TRAXTORM GANGSTAZ ALLIED BASE ALERT & PROMO NEOPHYTE HOSTED BY RUFFIAN Saturday 25th June RED : All Harder Styles BRENNAN HEART COONE BASS MODULATORS RADICAL REDEMPTION [LIVE] WILDSTYLEZ B-FRONT CODE BLACK AUDIOTRICZ SOUND RUSH DJ ISAAC & LUNA DR. RUDE HOSTED BY VILLAIN BLACK : Hardcore ANGERFIST [LIVE] PARTYRAISER & DR. PEACOCK THA PLAYAH NOSFERATU...
Defqon1 Chile 2015 : Unleash The Beast
Line UP Red Atmozfears Bass Modulators Coone Danidemente Frontliner Gunz For Hire Noisecontrollers Psyko Punkz Wildstylez Blue Adaro Angerfist Endymion Hans Noise Miss Offender Noiseshock Ran-D Sikddellz White Bogen Crizzly Dirtcaps Ital Psyko Punkz Rick Mitchells Villain Purple B&B Domisk Kallki Stormerz Tediz Under-X Trailer
Defqon1 Australia 2015 - No Guts, No Glory !
Friday The Gathering (FOR CAMPERS ONLY) Frontliner Brennan Heart & Toneshifterz & Atlas (WE R SHOWCASE) Zatox feat. Dave Revan Coone & Hard Driver Angerfist & Partyraiser Hosts: Villain & MC D Camping (FOR CAMPERS ONLY) Audiofreq & Kutski LNY TNZ Hawman + More to be announced Host: MC D Saturday Red – Mainstage Q-dance endshow Frontliner & Dillytek Brennan Heart D-Block & S-te-Fan Noisecontrollers (10 years of Noisecontrollers set) Zatox Coone Toneshifterz Audiofreq The Strangerz (live) Atmozfears Dr. Rude Hosts: Villain & MC D Blue – Raw Radical Redemption Warface (live) Hard Driver (live) Titanomachy Deetox Delete Atlas Equinox Fanatics Run & Gun Raw Machine (live) Kemik...
Defqon1 2015 - No Guts, No Glory
19/06/2015 BLUE – HARDSTYLE BRENNAN HEART D-BLOCK & S-TE-FAN GUNZ FOR HIRE B-FRONT MAX ENFORCER MASHUP JACK *LIVE* HOSTED BY VILLAIN BLACK – HARDCORE CHARLY LOWNOISE & MENTAL THEO NOSFERATU & ENDYMION *MILLENNIUM SET* DARKRAVER & THE VIPER & RUTHLESS KORSAKOFF MAD DOG HOSTED BY RUFFIAN 20/06/2015 RED – Harder Styles | Sat / Sun RAN-D FRONTLINER COONE MINUS MILITIA DA TWEEKAZ NOISECONTROLLERS POWER HOUR ZATOX WILDSTYLEZ ATMOZFEARS DIGITAL PUNK ELKABASS (THE PROPHET) HOSTED BY VILLAIN BLUE – Raw Hardstyle | All Weekend RADICAL REDEMPTION *LIVE* FREQUENCERZ A2 RECORDS "UNSTOPPABLE" FREAKZ AT NIGHT HARD DRIVER WARFACE ENDYMION CHAIN REACTION DARK PACT & LUNA TITAN PHUTURE NOIZE HOSTED BY DV8 BLACK – Hardcore | All Weekend PART...
Defqon 1 Australia 2013
  CAMPING (PRE-PARTY) Coone Luna Audiofreq Kutski Decipher & Shinra Gatty a.k.a. Hawman Hosted by MC D RED – MAINSTAGE
Defqon1 2013 : Weekend Warriors
FridayRED -The GatheringFrontlinerHeadhunterzZatoxHosted by VillainBLUE - nightparty
Defqon 1 2011
RED Noisecontrollers Technoboy Headhunterz & Wildstylez Zatox Digital Age Showcase by Wildstylez (live) The Prophet B-Front Kutski Bioweapon vs. Toneshifterz Stana Hosted by: Ruffian BLUE Titan Psyko Punkz Luna & Crypsis Alphaverb Josh & Wesz The Pitcher Ran-D & Adaro Waverider Deepack Alpha Twins Hosted by: MC Villain / MC Renegade / MC DV8
Defqon 1 in Australia
Line-up RED - All Harder Styles (Main stage) B-Front Bioweapon Dr. Willis Frontliner Headhunterz Nik Fish Psyko Punkz Stephanie Tatanka Wildstylez Hosted by: DV8 BLUE - Hardstyle Alpha² Max Enforcer Pavo Isaac Suae & Pulsar Tatanka & Zatox The Prophet Toneshifterz Hosted by: Chucky BLACK - Hardcore Evil Activities Korsakoff Mad Dog Outblast Promo Spellbound Unexist Vanth Hosted by: MC D O...
Defqon 1 Australia 2014
PRE-PARTY TATANKA (IT) ACTIVATOR (IT) KORSAKOFF (NL) DILLYTEK (AU) THE STRANGERZ (AU) DUNE (AU) HOSTS: VILLAIN (NL), MC D (AU) MAINSTAGE NOISECONTROLLERS (NL) WILDSTYLEZ (NL) ZATOX (IT) BRENNAN HEART (NL) WILD MOTHERFUCKERS LIVE (IT) CODE BLACK (AU) TONESHIFTERZ & DILLYTEK (AU) TATANKA (IT) MAX ENFORCER (NL) A*S*Y*S (GER) HOSTS: VILLAIN (NL), MC D (AU) RAW HARDSTYLE RADICAL REDEMPTION LIVE (NL) CRYPSIS (NL) ZANY (NL) AUDIOFREQ (AU) ACTIVATOR (IT) GECK-O (NL) VAZARD & DELETE (AU) THE STRANGERZ (AU) FANATICS (AU) HSB (...